Ode to Madame CJ Walker my hero..forever! The first female self-made millionaire in america..and she was african-american!  I think she had fabulous style! If your interested in her here is her wiki
en.wikipedia.org/wiki/Madam_C.…
Also be sure to check out her mansion on youtube..its fabulous!
I have been working on this piece for awhile now..Starting to feel my graphic designer pouring out hence all the added FX in this one..perhaps I will find my own style yet!…As always I used the normal suspects the fabulous dress is by Shifting Images..painted in zbrush, painter & photoshop.
Whooo Hooo 2 images out this week!
Thanks so much for looking!
Deedee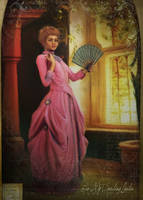 GALLERIES
From the Blog
07Apr
31Mar