Yah knoooow (in Lana voice from Archer)…. I have this thing about Ladies in hats…Hats definitely tell a part of her story.  This headpiece was so interesting..and I wanted to do a costume that was different and almost fantasy like.  
The Rest of the Inspiration:
Who? What? Where? When?  
Who? & What?: An Elegant Exotic Lady with dark deep eyes..and sun drenched bronze skin sipping Sumatra Blend Tea, under the shade of a cool afternoon terrace.
Where?& When?:  Sumatra. an island in western Indonesia and part of the Sunda Islands. ….Looking at a map surely it was once a part of Africa but has now drifted away…18th Century.
1280px-Batak Warriors 60011135 edit (1)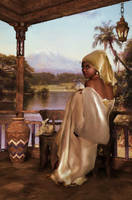 GALLERIES
From the Blog
23Jan