Okay so…It's Rodeo time in Texas.  Brings back memories of my mom taking us to the Rodeo Parade downtown..and watchin the Black Trailriders come in…FREAKING AWESOME!  I think when people think Cowboys & Cowgirls they don't think necessarily of African-American Cowboys/Ranchers/Farmers…but we are here..lol  My family still owns my Great-Great Grandfather's farm in Grand Couteau, Louisiana..and its just so damn Romantic and wonderful, even though I consider myself a city girl. The Name …Southern Girl..Remind me of that song by Maze..That's my Jam!  
I started on this image a while back and I had her sitting on a old truck..but I just didn't like it.  So I had the idea to change that and just have her on a fence…I think it turned out rather darling..very painterly, very loose brush strokes, and romantic.  I'll probably revisit it at later date and work more on the Colors a bit more..or ummm maybe not…I think the colors are SouthWesterny?? I dunno I will probably rework it later…or ummm maybe not..lol!
GOOOOO Rodeo!
And as always Thank you so much for looking Ya'll!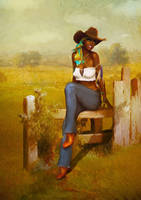 GALLERIES
From the Blog
23Jan