This is about a year old, its one of the first images I worked on as an "artist".  I do not consider myself an artist per se …I consider myself a graphic designer by trade.  Only a couple of years ago after hubby  & I sold our web community and I had nothing to do ..did I realize that I could actually paint with Photoshop. 
Now I constantly experiment with techniques of achieving painterly techniques..Trying to find a signature style..  What defines an artistic style anyway? Content, Technique, Medium…?? I dunno.. I like complicated backgrounds, romantically loose brushes, and goopy sloppy impasto…sexy shapes & pretty lights..but I'm still searching for a signature style…
Anyway thanks for visiting me and my Soulful Dreamweaver.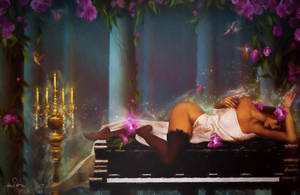 GALLERIES
From the Blog
01Dec
24Nov