Just took some new Painter tutorials at Lynda.com and I got Painter 2015! Tried some new technique with adding a canvas texture.. looks so awesome but I am doubtful as to how it will look printed up.  Perhaps I will find out soon.  My goal was to get out a new piece a week..failing miserably it seems it takes me about 2 weeks of fiddling around to get to a finished artwork..IF I like it..which more than likely I will not

Okay so I was inspired by Frazetta's lighting, someone commented that one of my other pieces was reminiscent of Frazetta..and so I did research on his lighting.  Also I read this book about Thomas Kinkaide and he was a big fan Maxfield Parish..Parish uses similar lighting scheme as Frazetta..or rather vice-versa.
So this is a love story of sorts I think?  She's like, "I'm the Queen of Fantasy Egyptian Skyland ..but your so HOT..you can be my king…" and then he's like.. "Your my Queen and even though I am a buff sexy angel guy, and not Royal… I will be your KING Sweet BabyCakes!"
Or something like that..clearly I need to read some romance novels or something? lol!!!
Anyway Thank You Ever so much for looking!
Update: Added final touches and FX thanks again for looking!
Edit: Looking at art day after day in my group…You really get a better feel when you look at your own.  This one thanks to Djake i figured out what i didnt like about it..it was the cropping.  I have a habit of doing too much..so this is a much better edit.  This still remains one of my favorite works by me!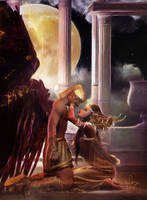 GALLERIES
From the Blog
23Jan